Ranch News
Welcome to the Sycamore Ranch Vineyard & Winery blog, here is where we will be highlighting events and news from around the winery.
---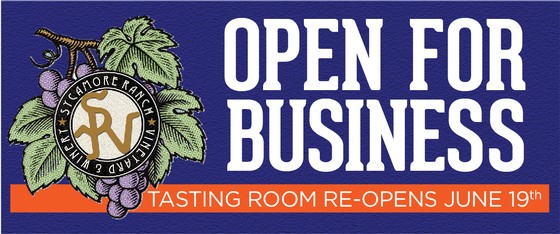 We are happy to report the Sycamore Ranch Vineyard & Winery is OPEN FOR BUSINESS.
We are looking forward to once again sharing the award winning wines and inspired friendship that you have come to know and love!
We have implimented new policies, procedures and practices to ensure that your visit to the Ranch is both safe and enjoyable.
All tastings are by appointment only.

We will be open for tastings Friday, Saturday and Sunday.

The inside tasting room bar is closed. All tastings will be held outdoors at our wine barrel umbrella tables.
All of our barrel umbrella tables will be positioned to provide six-foot minimum social distancing requirement between groups.

All tables will be seated with no more than six persons.

Groups must be from the same household or patrons that have asked to be seated together. People in the same group do not have to be 6' apart.

We are discouraging the moving of any table or chair to ensure that we do not violate the social distancing directives.

All members of a group must be present in order to be seated to minimize inter table interaction.

If you are seated, you may remove your face covering, but it is highly recommended if you get up from your table, that you wear your face covering.

All drinks and food will be served at your table.

We will offer three seating times– 11am, 1:15pm, and 3:30pm, to allow our employees adequate time to clean and sanitize the tasting area between groups. Tastings usually last 90 minutes

Because of the increased outdoor seating area in front of the winery building, we no longer allow parking in the winery driveway. Please park in our new off-street gravel parking lot (AWD recommended) or in a safe pull out area on Dart Canyon Rd. and follow the signs to the winery building.

For the safety of everyone, all Guests will be required to provide names and contact information for Covid tracing.

Guests are free to bring snacks/food to enjoy with their wine tasting. However, on Saturdays and Sundays, we have teamed with the Grapevine in Lake Arrowhead to provide individual cheese/charcuterie boxes to enjoy with your tasting. The cost is $8 and must be ordered in advance when you reserve your tasting.
For Reservations call the tasting room (909) 338-1725 or email reservations@sycamoreranch.com