Razzleberry
Raspberry Cider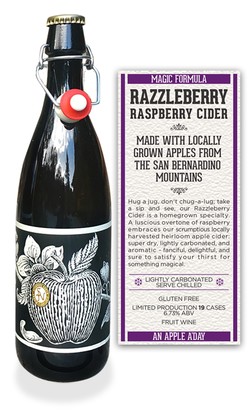 MADE WITH LOCALLY GROWN APPLES FROM
THE SAN BERNARDINO MOUNTAINS
Hug a jug, don't chug-a-lug; take a sip and see, our Razzleberry Cider is a homegrown specialty. A luscious overtone of raspberry embraces our scrumptious locally harvested heirloom apple cider: super dry, lightly carbonated, and aromatic - fanciful, delightful, and sure to satisfy your thirst for something magical.
LIGHTLY CARBONATED
SERVE CHILLED
GLUTEN FREE
LIMITED PRODUCTION 19 CASES
6.73% ABV
FRUIT WINE

Ingredients: Apples, Raspberries, Raspberry Extract, Yeast, C02, Gum Arabic (for stability).